Wire Cut EDM
AWT 855S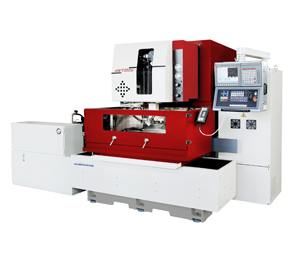 Developed by a group of top engineers and technicians with rich on ground and theoretical experience in the field of wire cut edm, AWT 855S renders superb engineering supremacy and unmatched mechanical features to outstand others.
Specs
Accessories
Features
Controls
Cut Samples
Video
Inquiry
MACHINE UNIT & FILTRATION SYSTEM
| ITEM | UNIT | AWT 855S |
| --- | --- | --- |
| Max. work piece dimension ( W x D x H ) | mm | 1280 × 780 × 345 |
| Max. work piece weight | kgs | 1000 |
| X travel | mm | 850 |
| Y travel | mm | 450 |
| Z travel | mm | 350 |
| U travel | mm | 100 |
| V travel | mm | 100 |
| Drive system | | AC servo motor |
| Wire diameter | mm | Ø 0.15 ~ Ø 0.30 ( standard ) |
| Max. taper angle | mm | +/-24° / 80 |
| Machine net weight | kgs | 5500 |
| Filter system capacity | L | 1550 |
| Filter element | | Paper filter |
| Ion exchange resin capacity | L | 14 |
| Water quality control | | Auto |
| Water temperature control | | Auto |
| Machine layout dimension ( W x D x H ) | mm | 3690 × 3060 × 2290 |
* All specification and design are subject to change without notices.
STANDARD ACCESSORIES
Auto vertical alignment lig / 1set
Tool kit / 1set
Wire guide Ø 0.25 mm – 1set
Brass wire roll Ø 0.25 mm / 1 set
lon exchange resin / 1 set
Filter element / 1 set
OPTIONAL ACCESSORIES
Wire tension meter
Wire guide set Ø ( 0.15mm / 0.20 mm / 0.25 mm / 0.30 mm )
Dielectric cooling unit
Consumable parts ( wire, flushing nozzles……etc. )
Super fine finish circuit
Linear scale ( for X & Y axis )
Auto voltage regulator ( AVR )
20 kgs wire loading system
MECHANICAL FEATURES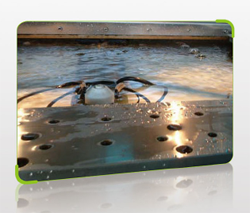 Special upper / lower wire guide set, provides high-speed automatic wire threading in water.
Simple and reliable Automatic Threading Device, applies high precision accuracy and easy for operator's maintenance.
Smooth lower arm movement fitted with anti-leaking system.
Hardened Stainless work tank base, enhance rigidity and support sealed, well-balanced, box-type design casting of the machine body ensures high thermal balance stability.
MECHANICAL FEATURES 1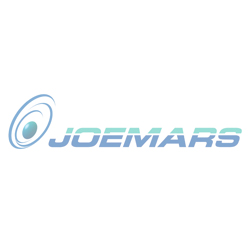 WORK TANK FEATURES
Semi-Submerged water level can be set in the work tank to cover the work table, to control the working area's water temperature in good condition.
Special designed water float-drain system can keep the work tank in a clean way.
HIGH RIGIDITY STRUCTURE
Well-balanced, box-type design casting of machine body ensures high thermal balance stability and rigidity.
U / V / Z axis all located upper from the machine column to offer accurate stability.
Lower arm applies with special thermal and hardened procedures, it does not transform during high water pressure machining.
PRECISE SERVO AND DRIVER SYSTEM
Each axis uses high precision C1 class ball screw with grinded and sub-zero treatment with manual single shot lubrication system to control the temperature change and consume of parts.
The procedures mark the smoothness better and bring more accurate machining, bring a longer life time for ball screw and control the accuracy gap to happen. With high power and strong response AC servo motor, another optional can also be considered " Linear Scales " to make the total close loop circuit control. Our linear guide way adapt new generation high smoothness linear guide way, reduces the problem of friction and ensures the stability when marking the machining.
WELL-BALANCED TERRMAL DESIGN
The well-balanced mechanical structure design, casting applies thermal treatment and heat current procedure. Lower arm with water cooling circulation equipment and combine with super anti-transform alloy material, to bring the high accuracy.
AWT FEATURES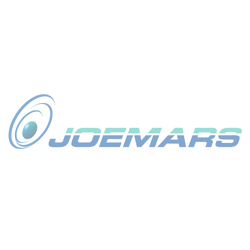 A. AC servo motors are used on machine, provides "Positioning & Tension" control with high reliability.
B. DC motors control offer different wire diameters for various data.
C. High pressure air applied at wire-melting system, makes no burns to the new wire.
D. Intelligent wire-cutting device, a different voltage occurs for different wire diameters.
E. Unique upper wire guide structure produces a high pressure water jet. AWT can be done in water, operation can choose Ø 0.5 mm ~ Ø 2.0 mm assistant flushing nozzles to thread the Ø 0.15 mm ~ Ø 0.3 mm wire.
F. Special lower wire guide to offer 45° and 180° that ensure the wire to be threaded successfully.
G. Ceramic wire collecting wheel is used to bring al longer lifetime for parts.
H. PWM DC wire collecting motor is equipped to provide the linear stability.
JOEMARS UNIQUE LEADING TECHNOLOGY FOR AUTO WIRE TH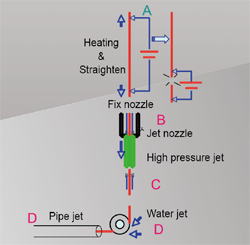 Wire can be threaded in water at the wire breaking position. ( wire-breaking point )
Wire threading successful rate approaching 100%.
Fastest wire threading speed less than 10 seconds under suitable condition and settings.
AWT ( Auto Wire Threading ) can be done for work piece up to each model's Z axis travel height.
WINDOWS CONTROLLER ( OPTIONAL )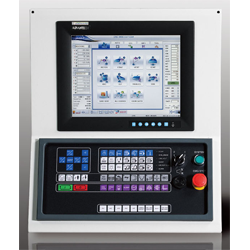 Standard keyboard & mouse operation with touch screen, user friendly design.
15" TFT-LCD monitor, shows the better view of data and function needed.
USB insert available, USB machining programs inserts provides convenience.
Multiple language online change available.
LAN connection, operation can connect to PC to edit program, data transmission.
Remote on-line internet connection control, allows operator / company to monitor the machine status and cutting situation either at work or via the internet service. The on-line technical data checking for machining consulting issues, on-line update, consumable parts maintenance the unlimited features can be built.
Built-in simple CAD/CAM software, provides operator easier efficiency.
WINDOWS CONTROLLER ( OPTIONAL ) 2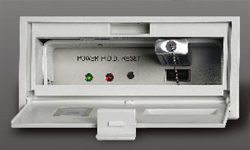 USB transmissior interface, provides efficiency and convenience for operators.
SELF-GUIDED OPERATION PANEL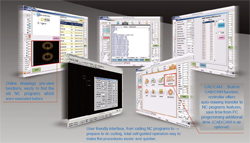 Online drawings pre-view functions, easly to find the old NC programs which were executed before.
User friendly interface, from calling NC programs to → prepare to do cutting, total self-guided operation way to make the procedures easier and quicker.
CAD / CAM…. Built-in CAD / CAM function, controller offers auto-drawing transfer to NC programs features, save time from PC programming additional time. ( CAD / CAM is an optional )
DOS CONTROLLER ( STANDARD )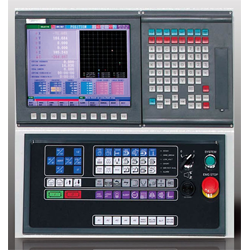 Applies high tech 64 Bit CPU control and high stability industrial professional computer, provides powerful NC function and carry out the high accuracy machining result. Sufficient and high efficient operation panel shows new generation PC-BASED super powerful way of control system.
DOS CONTROLLER ( STANDARD ) 2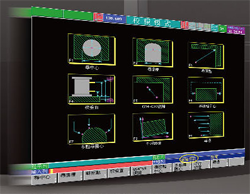 Provide easy operation and checking mode.
DOS CONTROLLER ( STANDARD ) 3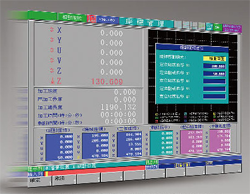 Insert the zero point or positioning function.
DOS CONTROLLER ( STANDARD ) 4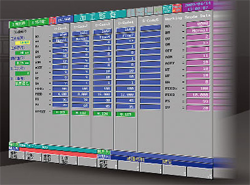 Data base for different material work piece and machining condition parameter and settings can be the reference for the operators.
DOS CONTROLLER ( STANDARD ) 5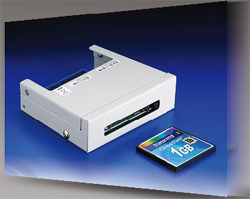 CF card available, replaces old-fashion 3.5" hard-disk and provide bigger memory capacity of machining data.
CNC UNIT & PROCESSING POWER SUPPLY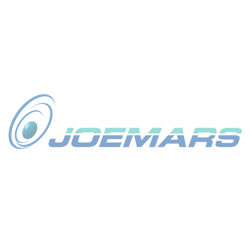 Controller device:Industrial grade Pentium 2 IPC
Memory device:CF CARD
Screen display:12.1" 800 x 600 Colorful TFT LCD
Input means :Keyboard, RS232, CF card, Ethernet
Servo control means Fully-closed circuit AC servo control.
No. of axis control:5 axes
Min. Instruction value:0.001 mm
Max. Instruction value:9999.999 mm
Pattern rotation:0 ~ 360°
Processing condition:9999 sets
Discharge power supply:AC MOSFET
Surface roughness:0.3 ~ 0.4 μmRa
Intelligent ignition power supply:Ultra-thin, thick plate
Electricity required:3 Phase, AC220V / AC380V / AC415V / AC440V , 18KVA